Explore sensory science exhibitions this National Science Week
At 23, I was diagnosed with a form of juvenile macular dystrophy. This can be devastating for any young person, but as an art student beginning a degree at the Victorian College of the Arts, majoring in painting, it was particularly devastating.
I had spent so many years as a child learning to paint; I thought this was something I would continue to do throughout my life. However, the diagnosis brought all this to a crashing halt. A mere few millimetres of dead cells at the macula can have huge impact – no longer driving, reading, seeing faces, no longer able to see the finer details. A sense of freedom and carefree independence gone.
As my diagnosing ophthalmologist could not answer my questions – how quickly will my blindness progress? To what extent will I lose my vision? Will I lose my sight completely?, I became an observer of my own deteriorating vision, noting its myriad impacts in every aspect of life.
In the following years, after raising two children, I decided to return to art school with limited vision. And I realised that low vision (or legal blindness) is not very well understood. So, I decided to paint and draw what my vision loss looked like, and completed my PhD at the Victorian College of the Arts as an artist researcher, relaying an 'eye witness account' of the entoptic effects of my own vision loss.
For me, vision loss did not look like the big black spot at the centre of a perfect visual field, so often depicted in major ad campaigns promoting eye health, or ophthalmic textbooks and journals, as they try to explain what the person with macular disease might 'see'.
'The Vegemite Jar' – 2016 oil-on-canvas painting, by Erica Tandori
In contrast, I find my vision loss to be a dynamic and ever-changing form of blindness, its visual effects dependent upon environmental, physical, and psychological conditions. I don't see a black spot at all. It's just so much more complex than that.
The discoveries I made as an artist made me realise that, sometimes, even the most sophisticated medical and scientific equipment cannot capture the lived experience of disease or disability, and that art can contribute to medical and scientific research.
In that respect, my work as artist in residence at the Rossjohn lab, Biomedicine Discovery Institute, at Monash University, has pushed both my work as an artist, and my work as a blind creative researcher. Here, with the support of Professor Jamie Rossjohn, I create exhibitions for people with blindness and low vision, who wish to know more about biomedicine and biomedical research.
All too often, people with blindness and low vision don't have access to the incredible wonders that are to be discovered through electron-microscopy and crystallography. These are discoveries that have made great science and won more Nobel prizes than any other field – discoveries that are celebrated in our culture, and yet remain inaccessible to those with visual impairments.
People with disability remain on the perimeter of scientific discourse, while at the same time Australian schools and tertiary institutions are witnessing a decline in the number of people undertaking STEM subjects, including biomedicine. 
This decline in STEM and the lack of access to science for people with vision impairment has been the driving inspiration behind Prof Jamie Rossjohn's initiative to bring science to the blind and low vision communities.
As a result, the Monash Sensory Science initiative was born, with the first exhibition held in 2018. Since then, exhibitions have travelled across Australia and overseas, recognised by the United Nations Symposium (AI for Good), celebrated by Berlin Falling Walls (Breakthroughs in Science) and travelled virtually across the world.
Added to this, we also began a disability internship program, enabling people with an interest in biomedicine to work at our world leading research laboratory, giving them an opportunity not often available to those of us with disability. To date, we have enabled some of our interns to gain secure employment and enrolment into science higher degrees, including Master's and PhD.
We have explored ways to make science accessible through tactile artworks, interactive science books, tactile posters, large font and braille labels, data projection mapping on sculptures, science inspired pop songs, and art-making workshops recorded in ASMR (auto sensorial meridian response) each seeking ways to make biomedicine novel, unique, inspiring and highly accessible to all.
But there is much, much more to do. We need a cultural shift, encouraging people from all walks of life and all abilities to be inspired to enjoy science, study it, work in its areas of research and celebrate its discoveries. And we need the wider community to accept and support this shift and the benefits this will bring.
I do believe Monash Sensory Science is a wonderful initiative, for it draws together scientists and researchers, people from all walks of life, inclusive of diverse needs, science literacies and divergent backgrounds to celebrate the wonders of biomedicine. It is a story about all of us, for all of us.
Monash Sensory Science will celebrate National Science Week with two free exhibitions travelling to both Melbourne and Sydney in August 2023.
In Sydney, Monash Sensory Science will partner with NextSense, a premier agency supporting children with hearing and vision loss, to host an event at the Australian Hearing Hub, Macquarie University, on Tuesday 15 August from 12 – 4 pm.
In Melbourne, the exhibition will be hosted by Statewide Vision Resources, the Victorian Education Department's peak body providing support to school age children with blindness and vision impairment and their teachers. This exhibition will be held on Thursday 17 August 2023, from 2 – 5 pm.
These exhibitions will also include workshops, where participants living with blindness, low vision or diverse needs, can create science inspired artworks. Items produced in the workshops will be included in future exhibitions and new interactive science books. All workshop materials will be provided free by the organisers. The exhibitions are free, light refreshments are also provided. Bookings are essential as places are limited.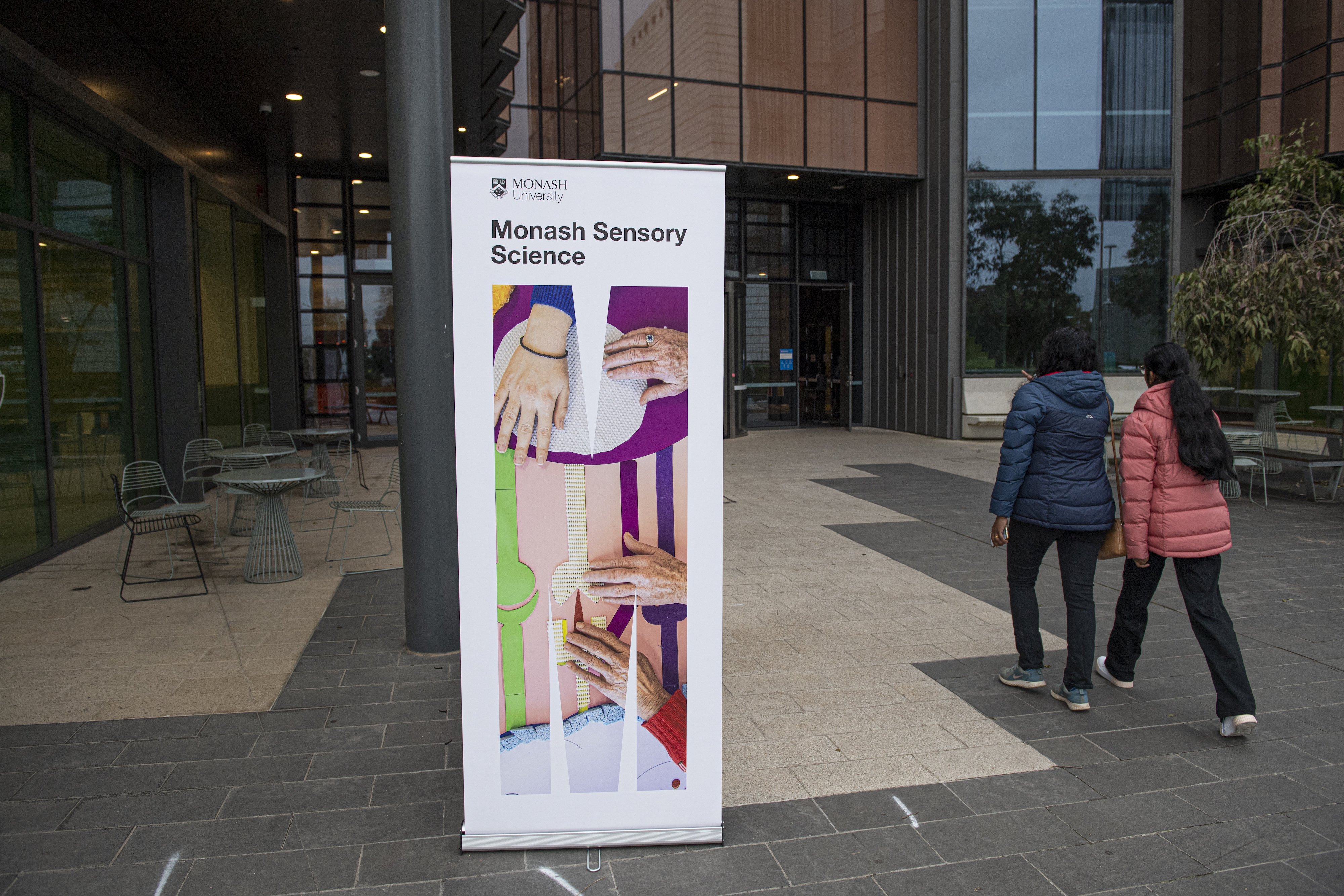 https://rossjohnlab.com/wp-content/uploads/2023/08/Exploring-tactile-artwork-at-the-Mpnash-Sensory-Science-Autoimmunity-exhibition-2023-.jpg
400
600
Jennifer Huynh
//rossjohnlab.com/wp-content/uploads/2018/01/monash.png
Jennifer Huynh
2023-08-13 18:50:15
2023-08-13 18:50:15
Read Erica's piece in Hire up about our sensory science exhibitions this National Science Week